Post Free Rental Ads
Whether you are looking to advertise your rental apartment, house, RentCompass is the perfect place to help you find a tenant quickly and easily - and if you are an individual landlord basic ads are
FREE
! Want to make your ad stand out? upgrade it to a
featured rental listing
.
New To RentCompass?
To Post Your Ad, Please Select One Of The Following Options:
Individual Owners/Landlords
Individual owners/landlords and real estate agents can post one rental ad for free. The ads will expire after 30 days:
Property Managers
Property managers and owners of multi-family rental communities learn more about how to setup a property manager account:
Already Have a RentCompass Account?
If you already have an existing RentCompass account, please sign in here to place your ad:


Your rental ads will be shown to thousands of visitors who come to RentCompass every day to witness an
apartment rentals
search experience unmatched anywhere in Canada. Not only that, the rental ads you post on RentCompass will also be published on dozens of our partner websites, so you don't have to go looking around for places to post your ad. RentCompass also provides powerful classified ads generation that you can post on your website of choice and will make your listing stand out from the rest.
Our website is packed with features like Google Maps integration, StreetView, Amenity maps, rich albums of property photos and a simple workflow that keeps the user always engaged within our website.
In addition, RentCompass has the first and most popular Canadian applications for
apartment rental search on mobile phones
. Posting your rental ad on RentCompass will open up a new channel for advertising your property to tens of thousands of users who have downloaded the RentCompass mobile applications all across Canada and are searching for apartments or houses for rent.
RentCompass also has the first and only Canadian Facebook app for finding
rentals on facebook
, we all know that everyone spends a significant time on social media sites, so we have found a way to make it easier for those users to find your ads. Finally, check out our resources section for tips on
how to rent out your house
.
Why place rental ads with RentCompass?
Save time, post your rental listing once, and it will be spread on multiple partner websites.
Advanced social media integration, including tweet-this-property, email a friend, Facebook integration and other micro blogs.
Reach a new demographic of tenants who are searching on their mobile devices, with GPS integration.
Have control over your listings, keep your contact information on RentCompass so that once rented, you only need to remove the rental ads from RentCompass instead of hunting for your listings on the different sites.
You can add more photos, change price, description or other details.
When your rental is vacant again, you can re-activate the ad at any time without having to re-enter the property information again.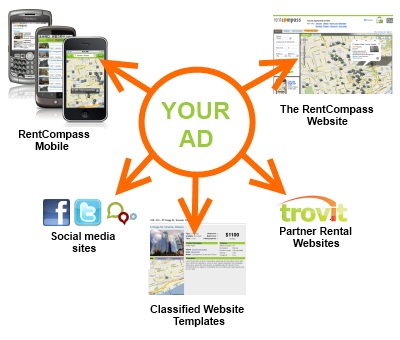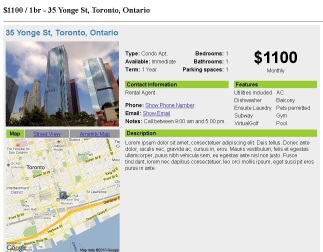 Learn how to Create
Classified rental ads
that stands out