Property Managers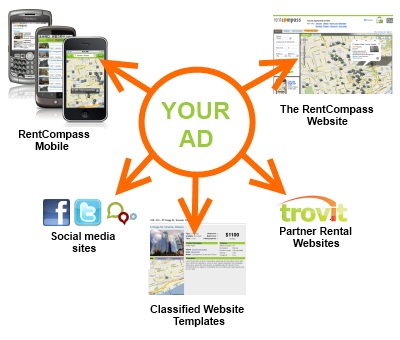 Large property managers and owners of multi-family can count on RentCompass to bring quality tenants effectively and without any hassle to maintain your listings. By advertising your rental units on RentCompass, your rental listings will be shown to tens of thousands of monthly visitors who come to RentCompass and wittness an
apartment rentals
search experience unmatched anywhere in Canada.
On top of that, your rental ads will be published on dozens of partner websites, social media websites and microblogs such as Twitter.
Our website keeps the user always engaged by delivering very useful tools like Google Maps integration, StreetView, Amenity maps, rich albums of property photos.
And of course, we have to mention our mobile apps, Canada's first
apartment rental search service on mobile phones
, which will open up a new channel for advertising your property to tens of thousands of quality tenants who have downloaded the RentCompass mobile applications all across Canada and are searching for rentals.
We also help you connect with the social media generation through the
RentCompass Facebook App
or
Twitter app
. But our social media tools are not limited to our listings! We have created a special
Facebook app for Property Managers
that can be installed on their own Facebook page to showcase the property manager's own listings.
For a small fee, you can sign up for the RentCompass professional plan which includes:
Rental listings that will never expire. Your ads will continue to run as long as you have this account.
Turn key solution, sit down and relax; no management required, you don't have to enter the properties nor update their prices/availability. The information will be updated as often as you like.
A company profile page with Twitter and Facebook page integration.
Pushing special promotions right to our users mobile phones, Facebook app and will be shown on our website.
You can change the photos, description and other information at any time you want.
Your property listings will also be published on many of our partner rental listing and classified websites as well as social media outlets and microblogs like Twitter.
How to start?
To setup your account today, call us at 888-991-3456 or use our contact form
here
and we will get back to you ASAP.