Rental Apartments and Houses on Your Mobile Phone
At RentCompass we do realize that not everyone has one of the more popular mobile devices (iOS or Android powered devices), and for that reason we have created a mobile version of our site. RentCompass mobile site allows you to find apartments and houses with any browser enabled mobile phone.
Searching for rentals is now easy to do on the go and can be done at any time anywhere with your BlackBerry device or any other mobile device with browser capabilities.
Select the province and city you would like to search in
Click on a property on the list to see more details, features, description and photos of that property.
Call and email landlords with a single click or touch.
Try out the RentCompass mobile website and find apartment and houses for rent on the go. House hunting just got a whole new dimension.
To try it out, Click here with your mobile device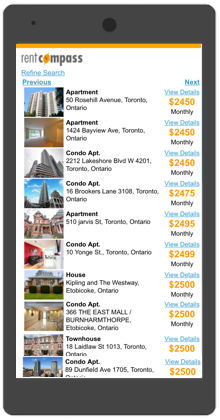 RentCompass Mobile Website