Rental apartments and houses on the Google Android
The RentCompass Android App uses Google maps and your Android's GPS to make apartment hunting faster and more convenient when you are on the go.
Searching for rentals is now a breeze, pan and zoom through the map to see more rentals in your desired area.
Use Android's GPS to see homes for rent near you.
Press the search button to search a neighbourhood or city.
Tap on a property pin to see more info, features and a photo galary of that rental.
Want to know how the area looks like? Check it out with StreetView of the neighbourhood.
Tilt the Android to landscape mode to view photos in full screen, or change the application orientation
Call and email landlords with a single touch.
If you like a property, share it with your friends on Facebook, Twitter or whatever sharing application installed on your Android device.
Download RentCompass for the Android and find rentals on the go, a way more convinient way for apartment/house hunting.
Free App!
526
people rated this app and gave it
4 out of 5
Get the Android App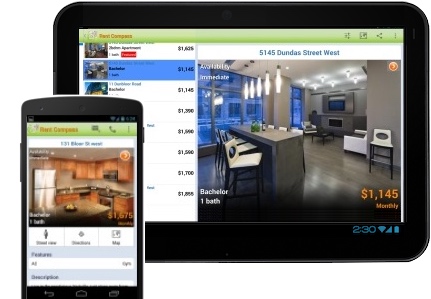 RentCompass for the Android
Scan the QR code to download the app