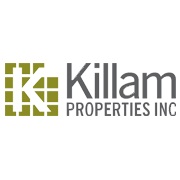 Killam Properties Inc
Based in Halifax, Nova Scotia, Killam Properties Inc is one of Canada's largest residential landlords, owning and operating multi-family apartments and manufactured home communities (MHCs). Killam's 150 apartment properties are located in Atlantic Canada's six major urban centres and Ontario. The Company's 44 manufactured home communities, or land lease communities, are in Atlantic Canada and Ontario.

From its first property acquisition in 2002, management has grown the Company by consolidating the Canadian rental market. In 2010 Killam began a development program focused on the construction of high-quality apartments in its core markets. Killam currently owns and operates 19,035 units in 194 properties, representing real estate assets of approximately $1.2 billion.

Killam is focused on growing its portfolio, maximizing the value of its properties and increasing earnings and cash flow per share.



Contact Information:
3700 Kempt Road
Suite 100
Halifax, NS, B3K 4X8
Toll Free: 1-866-453-8900
Tel: 902-453-9000
Fax: 902-455-4525
www.killamproperties.com