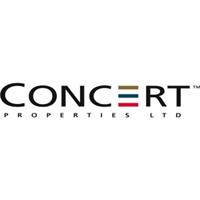 Concert Realty Services Ltd.
Concert is a diversified real estate development company involved in a wide array of for-lease and for-sale developments in British Columbia, Alberta and Ontario.

Concert's real estate activities include industrial and commercial properties rental apartments, condominiums, resorts, seniors living and land development. Concert also provides project management services to institutional investors, government and non-profit societies.

Originally founded on the principal of providing affordable rental housing, Concert has excelled through dedication to building, acquiring and managing a diverse portfolio of properties suited to the needs of our customers and the community.



Contact Information:
55 University Avenue, Suite 1601
PO Box 66
Toronto, ON M5J 2H7
(647) 789-2050
www.ConcertProperties.com